Icon development for software
Realization of an application icon and a toolbar icon set from 2009 with vector graphics.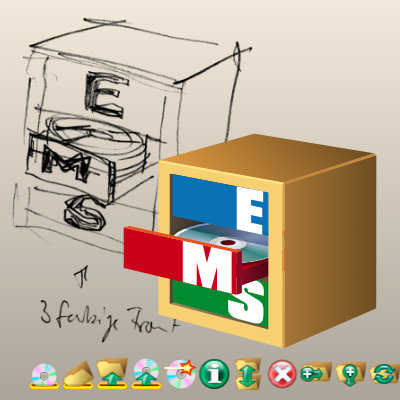 In 2009, long before the "flat design" was rediscovered, there were icons required for an archiving software: the icon for the program itself and various icons used in the program toolbar.
Although the icons of all common operating systems are pixel-based, the icons were first created as vector graphics and the required pixel graphics were generated from them and touched up by hand ("pixelated") if necessary. As a result, it would now be quite easy to generate suitable icons for the high-resolution (retina) displays.
1. Draft
It all starts with brainstorming and creating the first pencil scribbles. The selected ideas are then further developed and presented in colored sketches.
Scaling the sketches to the final format already allows an initial assessment of recognizability.
2. Implementation
The icons are created in resolution-independent vector graphics. This allows the icons to be continuously scaled and is therefore the basis for the following explanations in fixed pixel formats.
These vector drawings are also very suitable for illustration in brochures and other high-resolution applications.
3. Completion
Based on the vector drawings, the icons are converted into the various final sizes. The smaller the icons are, the more they have to be "pixelated" by hand. In some cases, a completely different representation must be used. With 16 × 16 pixels it is very hard to get a good three-dimensional representation.
Categories:
Graphic design
Screen Design